Instructions for Resizing Agent Photo Online
To edit a picture on your computer, you will need to select the picture file from your computer (or from your camera attached to your computer) and upload it to PicResize.com.

You can do this by starting on the home page and clicking the 'Browse' button:




When you have selected your picture from your computer, click the yellow 'Continue' button to upload your picture to PicResize.com:




After your picture finishes uploading, you will see the Edit Mode screen where you can crop, resize, add special effects, and edit your picture: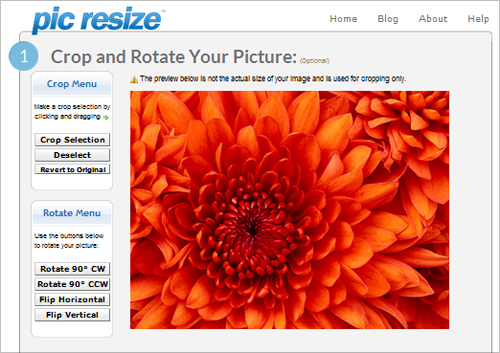 To resize your picture to a specific pixel size, when you are in Edit Mode (i.e. after uploading your image), in Step 2 'Resize Your Picture' choose 'Custom Size...' from the Make My Picture drop down: Note: Agent Photo needs to be smaller than 100 pixels wide and 100 pixels height

You can enter specific pixels for both Width and Height:




You can also optionally enter only one dimension in pixels (Width or Height), and PicResize.com will resize the other dimension keeping the correct perspective:


You can also enter a max file size Note:Agency Logo needs to be smaller than 200K
Save the image as JPG, GIF, or PNG, then click on "I'm Done" button

Save your Agent Photo to your computer by using the "Save to Disk" option.